George Fazio (November 12, 1912 – June 6, 1986) was an American professional golfer and a golf course architect.
In the 1946 Canadian Open(played at the Beaconsfield Golf Club), two U.S. veterans of the tour, Dick Metz and George Fazio, tied after 72 holes with identical scores of 10 under par – 278. A 36-hole playoff match was won by Fazio with a 70 – 71, 141 score. Stan Leonard was the low scoring Canadian, one shot off the pace.
Fazio, born in Philadelphia, Pennsylvania, was a respected player in the mid-twentieth century and competed in seven Masters Tournaments from 1947 to 1954. His best finish was 14th in 1952.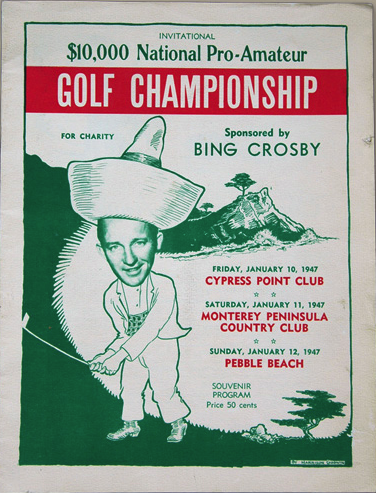 Now the AT&T Pebble Beach National Pro-Am.
Fazio won two PGA Tour events: the 1946 Canadian Open and the 1947 Bing Crosby Pro-Am (in a tie with Ed Furgol). He had career earnings of more than $50,000.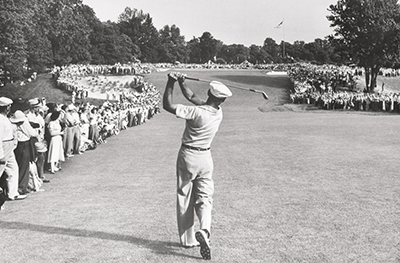 This shot of Hogan's 1-iron approach on the 72nd hole of the 1950 U.S. Open is one of the most iconic in golf history. His ball found the 18th green at Merion, and he made par to reach an 18-hole playoff, which he won.
George nearly won the 1950 U.S. Open at Merion Golf Club outside Philadelphia, finishing third to Ben Hogan and Lloyd Mangrum in an 18-hole playoff. This event was recently memoralized as one of the 15 most memorable Philadelphia sports moments.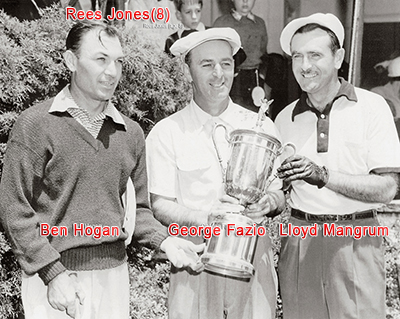 Photo bombed by Rees Jones!
Like most golfers of his generation, Fazio earned his living primarily as a club pro during his regular career years. During the 1940s, he was head pro at Hillcrest Country Club in Los Angeles, where many of Hollywood's celebrities played.
After his playing days were over, Fazio went on to become a well-known golf course architect along with his nephews Jim and Tom Fazio and course designer Lou Cappelli.  They built many notable courses, and they are particularly noted for the shapes built into their traps – such as clover-leafs and butterflies.
George Fazio died in Jupiter, Florida at the age of 73.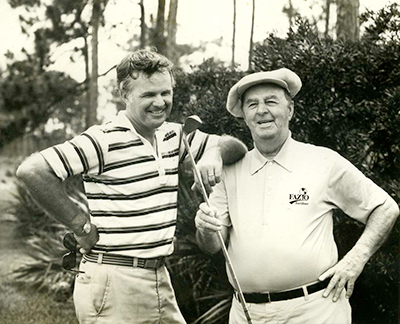 Jim Fazio Sr. & George Fazio
What if George Fazio Won More? The GolfTalk Minute for 7/30/2014